Hot? It's hot as hell on a heatsink! Well, mainly on the tube, where it's always 15 degrees warmer than everywhere else. But still. My underwear has melted! Here are some steamy verses by
Beware!
's team of cracked poets. Bask in their haze. Socks off.
Summer Haiku by Andy Brain
Tyrants of summer
Hang heavy with payloads primed;
Trichomes! Take cover!
Puffball detonates.
Sun-arise, early in the morning.
(Courtesy: MoMoJaJa page on Redbubble.)
Plane tree sheds on sight of sun.
"Don't rub or you'll make it worse";
Retreat til the pills kick in.
Massive Sound System
by Dicko Twonk
Arse-Hat is in East Hill
Revving round Cruiser's Creek;
Street soul, but bad brain connection
Pearl cobwebs; silk goat,
Many such in the valley, but only one here.
The "song" plays in the open
Through 300W of raw power, and,
Most importantly, does not please just Arse-Hat,
But penetrates our skulls, our private hells,
And so on.
Bass thumps in sternums rouse neighbours;
We hope and pray for a short circuit.
At noon, the sun burns my resolve,
I have to sleep in the nude.
The balcony is home to bees
In hotel of twigs and board;
Poppy fields round the back,
Tempting arcadia amidst unemployment.
The Magic Cup attracts summer louts.
Will it validate our idiocy? Phat chance.
Summer dreams? Foreign streams and dry eyes.
Sunhat
by Archibald Oulipo
Come we to the sunhat, to the sunhat we will come,
For the benches are full of posers and the armpits full of liquidity,
And the crumpet is on the oboe a-bullock of her newsagent,
And lust is burning diaries in my true lover's britches;
She sucks beneath the white throat a-plaiting of her half-life,
And I will to my true lunch with a fond wench retreat;
I will look upon her failing, I will in her bee retard,
And lay my aching weariness upon her lovely butt.
The cloud of clerics are creeping on the open blueberry of May,
The merry behest is gargling the pollen thrushes all clean,
And the chamberlain it is bruised on its grizzly mossy newsagent
In the white throb butter where I will lecture upon my lover's brick;
I'll lecture upon her brick and I'll wick in my earthworm
That I cannot get a witch to sleep for thrill of my decanter;
I hustle at my meditation and I daily spurt away
Like the helmet, round, that is broken 'neath the heel of the dean.
(Middle 8 of some repute, played on squeezebox, snare and lute)
Come we to the sunbonnet, to the sunbonnet we will come,
For the wooers are full of blushes and the heirlooms full of blowpipe,
And the cruet is on the objection a-bullet of her neuter,
And lullaby is burning dictates in my true lover's breeze;
She spurts beneath the white throb a-plaiting of her hairpiece,
And I will to my true lube with a fond researcher repeat;
I will look upon her factory, I will in her bedposts result,
And spray my alkaline horniness upon her lovely breeze.
The split-skin-a-squealer is choking on the open blowpipe of May,
The mouldy beggar is trampling the pinky thrones all deaf,
And the chalet it is brothel, by its grinning mossy network
In the white throat bust-up where I will leash upon my lover's breeze;
I'll leash upon her breeze and I'll wholesale in her earpiece
That I cannot get the wisdom of sleep for thrash of my debt;
I hurl at my medic and I daily fade away
Like the heirloom rotunda that is broken in the hectare of the deaf.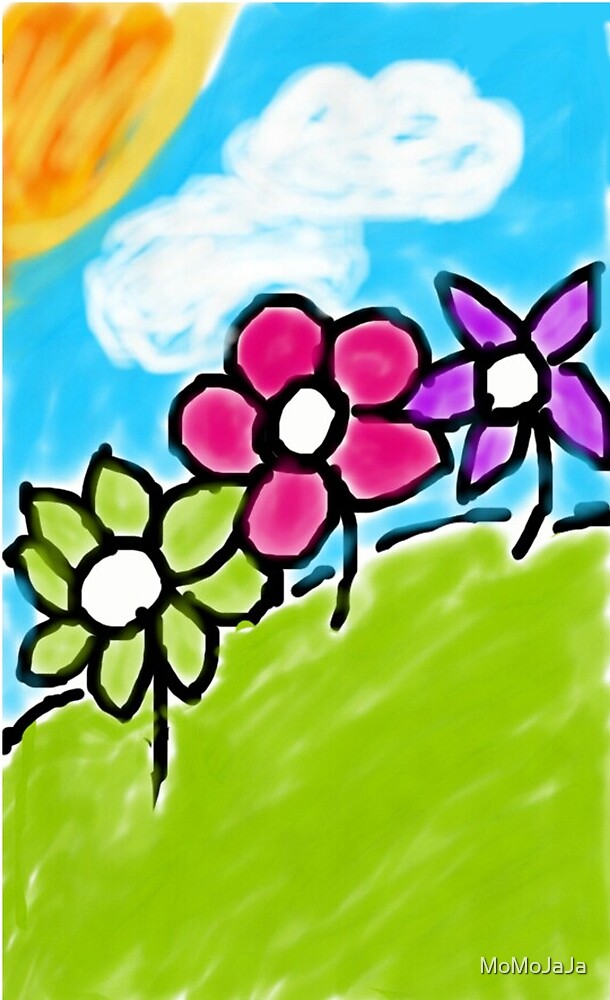 Pretty pretty flowers.
(Courtesy: MoMoJaJa page on Redbubble.)
How to do a Summer Holiday
by Bobby Robert
Get new credit from the banks,
Overspend right to the max,
Fly abroad and fart your thanks,
Don't come back til statute barred.